Lonely Little Angel Show – Quinn Volpe
May 26, 2019 @ 7:00 pm

-

9:00 pm

$10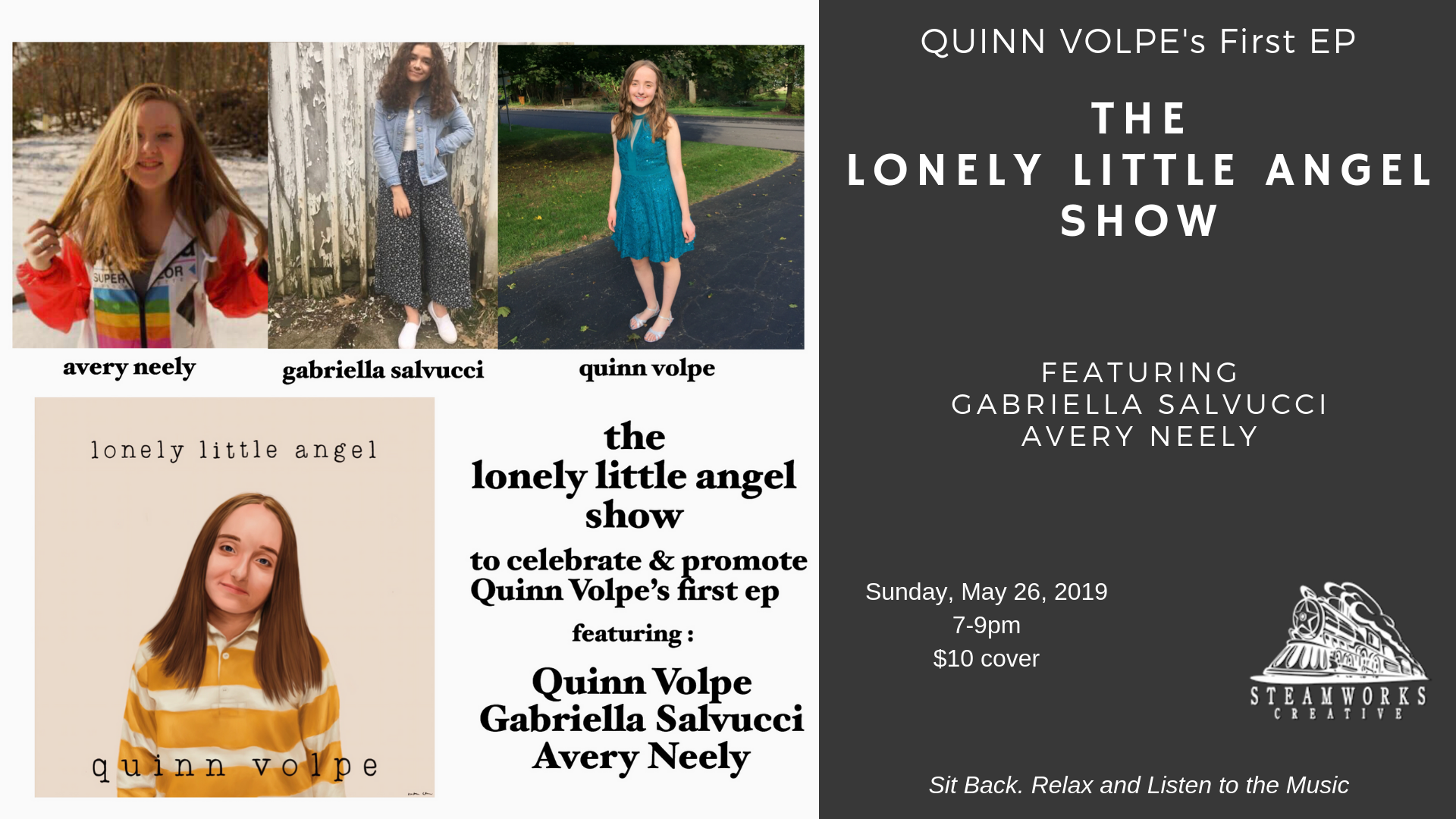 The Lonely Little Angel Show is being held to promote and celebrate the release of Quinn Volpe's first ep that will be released in June of 2019. The show will be on May 26th from 7-9 and tickets will be sold for $10 at the door. The show will also feature musicians Gabriella Salvucci and Avery Neely. Stickers will be sold for $3.
Quinn Volpe is a 15-year-old musician based in Pittsburgh, PA. She is a singer-songwriter that enjoys writing music and playing the ukulele and guitar. A few of her musical influences are Sam Smith, twenty one pilots, Jon Bellion, Brendon Urie, cavetown and EDEN among many others. Quinn started writing her own music in late 2017. She performed at Mr. Smalls Theatre with Liz Berlin in July of 2018 and regularly performs at the Acoustic Cafe at her school. She is planning on participating in two music camps this summer- Real Life Music Camp at Mr. Smalls Theatre & Recording Studio and Girls Rock Pittsburgh where she will write songs and collaborate with other musicians. She will be releasing her first ep, titled Lonely Little Angel, in June of 2019.
Gabriella Salvucci is a   singer-songwriter and pianist from Pittsburgh. Her musical influences include the Lumineers, the Head and the Heart, and Twenty One Pilots. She regularly performs original songs at Tune it! Tuesdays at Black Forge Coffee House, and recently played on the Saturday Light Brigade radio show. She is also looking forward to attending Liz Berlin's Real Life Music Camp for the second time. Gabriella posts videos on YouTube and Instagram, and hopes to release an EP later this year.
Avery Neely is an up and coming 13-year-old singer-songwriter from Pittsburgh, PA who loves to sing, play the ukulele, and guitar. She often opens for different artists and bands, and also sings by herself or with friends at local coffee shops and restaurants.