Surf and Salvation – when the Hallelujahs meet the Cowabungas! Featuring The Boss Stingrays and Slim Forsythe & Allegheny Mountain Gospel Band | July 17th 8pm Door $10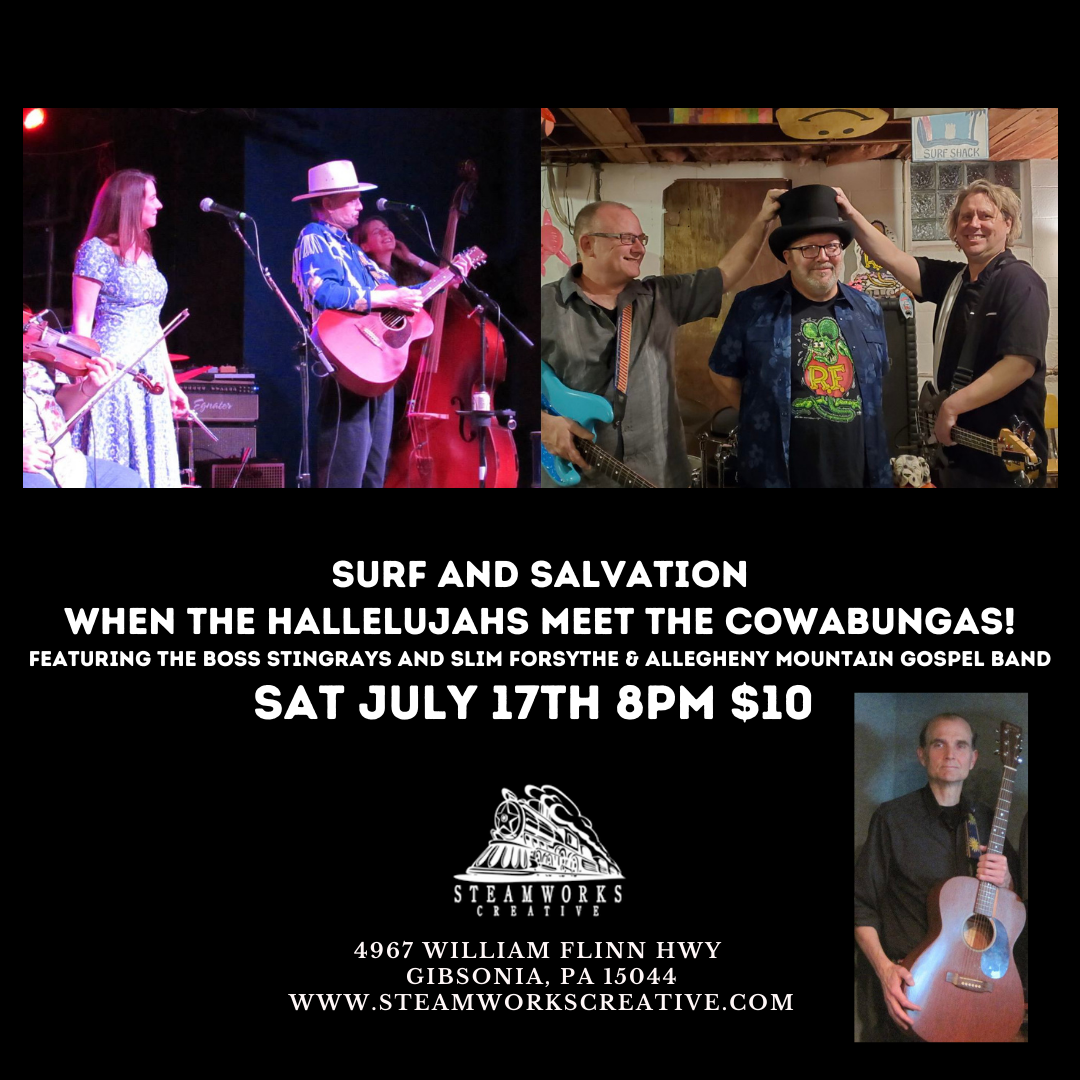 Surf & Salvation – when the Hallelujahs meet the Cowabungas!
Featuring The Boss Stingrays and Slim Forsythe & Allegheny Mountain Gospel Band.
There is a new band in Pittsburgh hittin' the waves of surf. Yes, the 'Burgh has a small but mighty bitchin' surf-rock culture. The Boss Stingrays are making their mark on the scene with their clean, drippy trad surf sound, echoing surf chords, fluid with frenzied staccato picking and pounding surf drumming.
This band is made up of newcomers to surf and a seasoned surf band musician. Timmy Klatte has been playing surf for 13 years as the drummer for The Turbosonics. Jeff Geissler, on bass, has a history of playing with punk outfits, metal, and church bands. Al Donaldson on lead guitar played with the Regular Joes and acoustic bands in Florida. Together they are creating a beautifully authentic surf sound of a genre designated a folk form indigenous to the southern Pacific coast region.
Slim Forsythe is well-known in the Pittsburgh area as an entertainer performing classic country-western, gospel, bluegrass, and rockabilly.  With his bands the Parklane Drifters and the New Payday Loaners, and as a solo performer, he's taken his music across the United States and right here throughout Western Pennsylvania – most notably as a regular at Nied's Hotel. He would also team up with The Turbosonics for the annual Surfin' Christmas and Surfin' Lawrenceville shows at Nied's. In 2014 he was inducted into America's Old Time Country Music Hall of Fame.
He retired from the music scene a few years ago, but is now teaming up with his long-time bassist, Erin Snyder (aka Candy Mountain) and her sister singer/songwriter Jennie Kay Snyder to form the Allegheny Mountain Gospel Band. They will perform a pleasing blend of old-time mountain gospel classics, a few songs by contemporary recording artists standing in that same tradition, and along with a few originals.
Mightier than the waves of the sea is His love for you…..Psalm 93:4
The Allegheny Mountain Gospel Band is a trio of Pittsburgh musical veterans that bring 3-part harmonies, guitar-picking and an old-time spirit to the stage.  Over the last 16 years, singer-songwriter Slim Forsythe has "mined his own history to forge a unique Northern honky-tonk mythos" (Aaron Jentzen, City Paper)  Singer-songwriter Jennie Kay Snyder cut her teeth in the LA and Austin music scenes before returning to her mountain roots.  Her sister Erin Snyder (aka Candy Mountain) is a professional cellist and bassist who has performed everywhere from CBGB's to New York's Carnegie Hall. She has played with Forsythe since 2005 and Jennie Kay joined the fray in 2007.
All raised in the Allegheny Mountains of Pennsylvania's Northwest Tier, this threesome channels classic country gospel through the woodlands of northern Appalachia to shine the light of God's love through the unifying power of music.