Funky New OrYinz Piano Summit Tom Roberts with special guest Josh Paxton
August 17, 2018 @ 8:00 pm

-

10:30 pm

$20
Friday, August 17th, 2018, Funky New OrYinz Piano Summit Tom Roberts with special guest Josh Paxton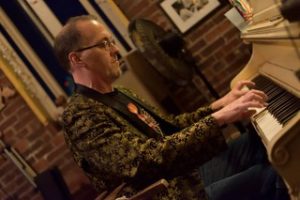 Pianist, composer, and arranger Tom Roberts is one of the leading exponents of early jazz piano in the world today (as stated by Ricardo Sciavales in The Heart and Soul of Stride, Blues, and Swing Piano).
He has performed on The Tonight Show with Johnny Carson, and A Prairie Home Companion with Garrison Kiellor. He was the featured pianist at the International Stride Piano Summit in Zurich, Switzerland 2001 and 2009. Tom was pianist for Vince Giordano and the Nighthawks in New York City (recent Grammy winners for the soundtrack to Boardwalk Empire) and pianist and musical director for Leon Redbone for six years. Tom has performed twice at New York's Carnegie Hall in 2003, once with Skitch Henderson and the New York Pops. He was featured in 2003 in solo with Dick Hyman at the prestigious Jazz In July series at New York's 92nd St. Y. Tom has performed multiple times at The New Orleans Jazz and Heritage festival including a solo performance at The Professor Longhair Society's Piano Night At Tipitina's. He was featured at The Smithsoinian Institution "Festival of American Folklife" and has performed throughout Europe as a member of multiple ensembles from New Orleans.
Tom has composed new musical scores for The Charlie Chaplin films One A.M. and The Rink through a commision from The Pittsburgh Symphony. The scores were premiered at The Leopold Mozart Conservatory in Augsburg Germany and then performed in Pittsburgh at Heinz Hall in May 2012 as part of the Pittsburgh Symphony Paris Festival The City of Light. He has completed a score for a newly restored version of The Pawnshop which was premiered at The Hollywood Theater as part of the centennial celebrations for the 100th anniversary of Chaplin's first films. At the same event he premiered another new score for Chaplin's first appearance as the iconic Little Tramp in Kid Auto Races at Venice CA He orchestrated this same work which was performed in 2014 by The Washington Symphony Orchestra and in 2017 by The Pittsburgh Civic Orchestra.
He most recently scored the latest Rick Sebak special for WQED called A Short History of Rt. 88
In 2012 he composed a new score for the Gloria Swanson film Stage Struck, performed at The Andy Warhol Museum as part of the "Unseen Treasures from The George Eastman House" series and November of 2013 saw the premiere of his new score for the Roscoe "Fatty" Arbuckle film "Special Delivery" also for The Eastman Hoise series at The Warhol in 2013.
In September 2014 he completed and performed a new score for the Harry Langdon 1926 film Tramp, Tramp, Tramp which was premiered at The Andy Warhol museum
Tom has composed music for two films by The Allegheny City Society. He also composed a large scale choral work based on the poetry of Langston Hughes which was performed by The Bach Choir of Pittsburgh
As an arranger, Tom has arranged and performed the music for the soundtrack of Martin Scorsese's film The Aviator, starring Leonardo di Caprio. for the syndicated PRI show Riverwalk Jazz, Live from the Landing with the Jim Cullum Jazz Band, and a number of pieces for Wynton Marsalis and The Jazz at Lincoln Center Orchestra for a concert of the music of Louis Armstrong. A number of his arrangements were also featured at the prestigious Jazz in July with Dick Hyman at Manhattan's 92nd St Y for the centennial commemorations of Bix Beiderbecke, Joe Venuti and Benny Goodman.
In 2008 for the 250th anniversary of the founding of Pittsburgh, he arranged Oscar Levant's Blame It On My Youth and a medley of Earl Hines compostions for The Pittsburgh Concert Chorale. In 2012 he arranged music for the Pittsburgh Jewish Music Festival including settings of Scott Joplin and Louis Armstrong re-imagined from a Jewish perspective.
Originally from Pittsburgh, Tom has lived and performed in New Orleans and in NewYork in Harlem.
Tom has recorded over 40 compact discs . He has recorded with Leon Redbone, The Paragon Ragtime Orchestra, Rufus Wainwright, Martha Wainright, Loudon Wainright III and Cole Porter. No kidding! In 2004, Tom, along with Vince Giordano's Nighthawks, recorded new orchestral backgrounds accompanying vocals recorded by Cole Porter in 1934 for the film DeLovely
Besides his pianistic artistry Tom is a versatile music historian with special focus on the Early Jazz era . He has contributed articles for magazines such as Piano Today and is a frequent guest at National Public Radio. Recently he has researched the early years of jazz in Pittsburgh and presents a lecture entitled The Forgotten History of Pittsburgh Jazz: Pittsburgh in the Roaring Twenties.
Tom is the founder and conducter of the newly created Allegheny City Ragtime Orchestra" an 11 piece ensemble comprising members of the Pittsburgh Symphony and opera and ballet orchestras. The ensemble performs authentic orchestrations from the ragtime era with a special focus on rediscovering and presenting the lost work of Pittsburgh ragtime composers.
Tom also plays with The Red beans and Rice Combo  along with Dave Klug on drums and his custom-built "Kluger Soundboard," and Wayno on vocals, harmonica, & ukulele. The fun-loving , sharp-dressed band has been gigging around Pittsburgh for a little over a year, and quickly developed a reputation for delivering a danceable mix of New Orleans R&B, early rock & roll nuggets, and barroom ballads, with a jazzy dash of Tin Pan Alley, and a generous side of wit & humor.
In April 2015 Tom brought the critically acclaimed documentary "Bayou Maharajah, The Tragic Genius of James Booker" to The Hollywood Theater. Lily Kleber's film has been screened at prestigious film festivals throughout the world including the Film Society at Lincoln Center. Tom performed music by James Booker and his disciple Dr. John and acclaimed poet Terrance Hayes read before the screening.
Tom co curates the series "Silents, Please" at The Hollywood Theater in Dormont. This monthly film series presents classic silent film with live accompaniment from a varitey of performers and ensembles ranging from the traditional to avant garde.
He frequently appears as a guest host on Ryhthm Sweet and Hot on 90.5 WESA
"Tom Roberts (piano) – a real wizard" 
New Orleans Music Magazine
At five, Joshua Paxton received a little yellow toy piano that he banged on for years, playing along with TV jingles and music on the radio by ear. At 11 his parents gave into his pleas for piano lessons and bought him his first piano. Though classically trained, by the end of high school he saw his future in jazz. As an undergraduate he attended the University of Miami and Bowling Green University, then went on to study under Ellis Marsalis at the University of New Orleans, earning a master's degree in Jazz Piano.
Recently relocated to Chicago, Joshua was a fixture on the New Orleans music scene for the past ten years, performing as a solo artist, group leader, and sideman with many of the Crescent City's top names. His diverse musical background ranges from avant-garde jazz to stints with major label rock bands. Currently, he is focusing on his unique approach to New Orleans Rhythm and Blues piano style. Josh is also the keyboard player for Johnny Sketch & The Dirty Notes.
Tickets $20 in advance / $25 at door
BYOB