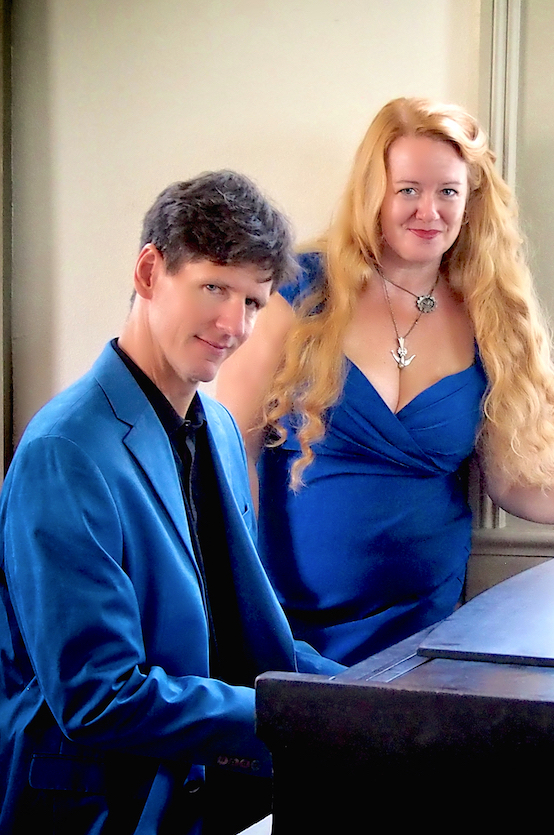 Debbie Davis and Josh Paxton
October 13, 2018 @ 3:00 pm
-
5:00 pm
Saturday Matinee, October 13, 2018 Debbie Davis and Josh Paxton
Introduced to each other by the legendary Leigh "Li'l Queenie" Harris,
Josh and Debbie have spent the better part of 20 years exploring their shared musical interests ranging from Duke Ellington and Jellyroll Morton to Stevie Wonder and
Randy Newman. Together, Josh and Debbie have performed in Switzerland, Italy and France as well as domestic performances across the country.
Their first recording as a duo, "Vices and Virtues – a live record" was released on April 1, 2017. Recorded live in front of an audience in New Orleans with no overdubs or second takes, the recording showcases the pair's ability to move effortlessly between moods, genres and musical eras and captures the dynamic range that has become their calling card.
The daughter of two opera singers, Debbie Davis never had a chance. She was born a singer. She made her professional singing debut at the age of two and by her 5th birthday she was traveling with her parents, performing childrens' roles in opera companies all over America. A native of New Jersey, Debbie moved to New Orleans in 1997 and began making a name for herself in the local music community. Debbie has recorded and/or performed with Irma Thomas, Michael Cerveris, John Boutte, Soul Asylum, The Misfits, Dukes of Dixieland, Leigh "Lil Queenie" Harris, Paul
Sanchez (Cowboy Mouth), Harry Shearer (Spinal Tap), Tony Clifton and Alex McMurray. In 1999 she joined the world renowned vocal group,The Pfister Sisters, and has spent the last 17 years performing locally and internationally with the group. Debbie was the jingle singer for the 2003-2009 Zatarains ad campaign and contributed to the Grammy and Emmy Award winning sound track to HBOs TREME. She also made regular appearances as herself on TREME during it's four season run.
At the age of five Joshua Paxton received a little yellow toy piano that he banged on for years, playing along with TV jingles and music on the radio by ear. At 11 his parents gave into his pleas for piano lessons and bought him his first piano. Josh moved from his native Ohio to New Orleans to study piano with Ellis Marsalis in the mid- 90s.By the time he earned his masters degree in Jazz Piano, he found that the city had gotten its teeth into him, so he stayed. Since then he has served at the pleasure of notable acts as Maria Muldaur, Leigh "Li'l Queenie Harris, Cookie Gabriel, Bruce Hornsby, the Afghan Whigs, Papa Mali, Big Sam's Funky Nation, The Wild Tchopitoulas, Johnny Sketch and the Dirty Notes and the Pfister Sisters. His transcriptions of the music of James Booker (The James Booker Collection, Hal Leonard) and Professor Longhair have become standard reference tools for pianists the world over.
"Debbie Davis has always been a musical polymath, with a wide-open definition of what qualifies as a jazz song: Material on this live disc ranges from Duke Ellington to the Beatles (twice) to Tom Lehrer to Alex McMurray, which covers 80 years and a few different worlds. Davis is joined by Josh Paxton, a pianist whose instincts are every bit as flexible as her voice. Give them a gorgeous tune (Fats Waller's "Jitterbug Waltz") and they'll do some graceful variations; give them a lusty one ("Lulu's Back in Town") and they'll cavort with it.Paxton can also match Davis' sense of mischief: They approach Tom Lehrer's "Masochism Tango" as a steamy torch song, which of course makes it funnier. But the best track here is also the biggest surprise, Amy Winehouse's "Love Is a Losing Game." The song was written to be a heartbreaker—and of course, the original singer was no slouch herself—and they get the mood and the atmosphere just right, making this a performance for sad romantics everywhere."-Brett Milano, Offbeat Magazine
"Davis is full of surprises, and she reminds the audience "We never think of ourselves as being in one genre." Indeed, the duo proceeds to mine jazz, rock, R&B, blues, comedy and classics from the American song book by writers as varied as Duke Ellington, Hoagy Carmichael, Alex McMurray, Paul McCartney, Amy Winehouse, Tom Lehrer, Irving Berlin, Fats Waller and Stevie Wonder.
After two decades together Davis and Paxton fit together like peas and carrots, and while they have the sympatico that lies at the heart of any long-term successful partnership, they also leave you with the sense that you've heard two distinct and extraordinary solo statements." – John Swenson Offbeat Magazine
"The live recording is an excellent representation of Debbie Davis' powerful and developed vocal expertise along with Josh Paxton's ability to glide around the piano. These artists breathe new life into these songs and highlight their own skill by the ease in which they shift through the different styles of these songs." – WWOZ 90.7fm
Advance tickets $20
BYOB
Doors open one hour before showtime.