Sarah Tilghman
December 19, 2019 @ 7:30 pm

-

10:00 pm

$5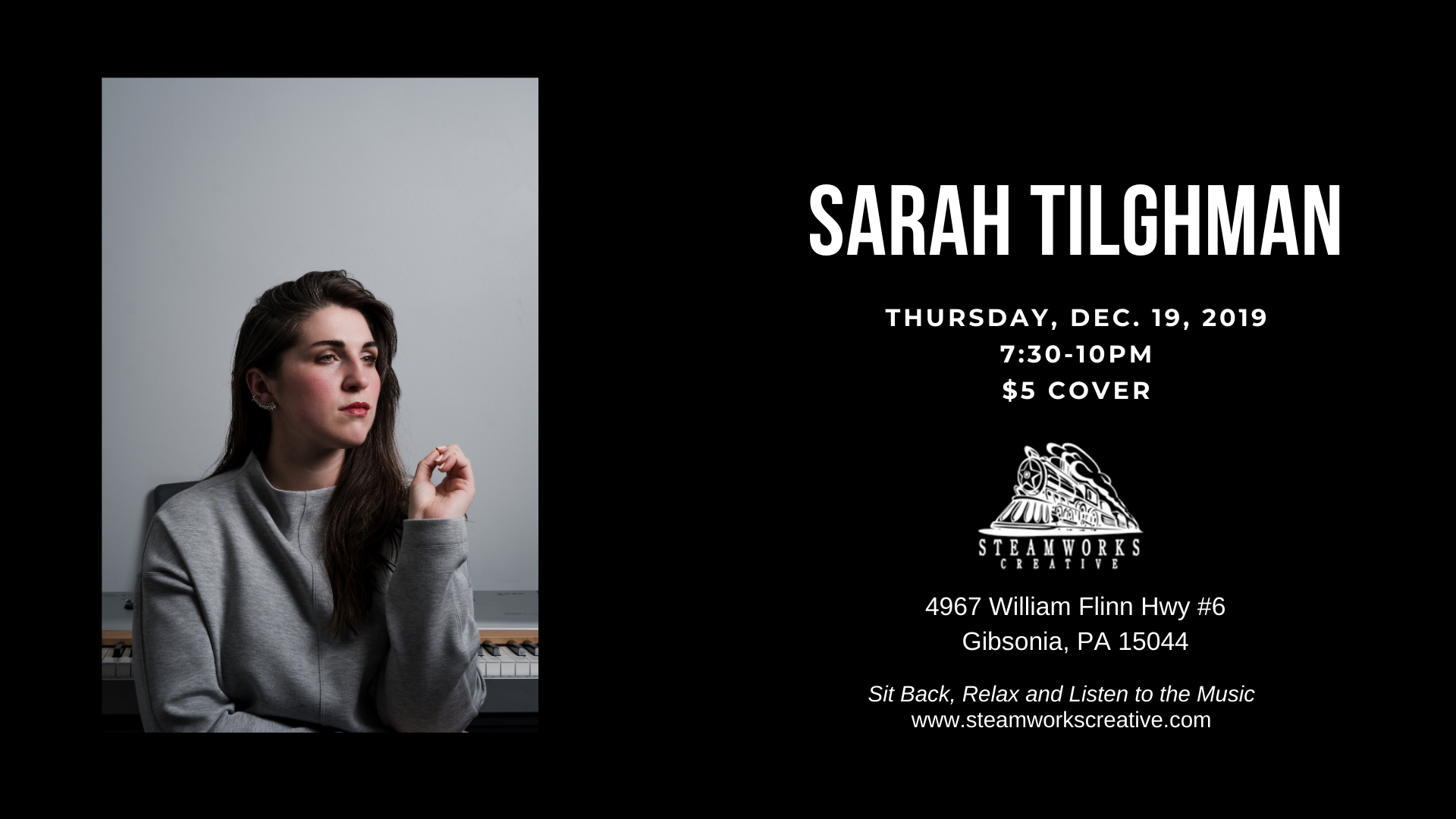 At every defining moment, you're faced with fear. The anxiety kicks in and suddenly who you thought you were and what you thought you wanted doesn't seem so clear any longer. It's a place of tension where you get to choose to follow your heart or follow fear. That's why Sarah Tilghman makes music. Sarah was raised in a small town outside of Pittsburgh, PA, where dreams were lofty and leaving, was rare. From a very young age, Sarah always knew she wanted to share music with the world.
Sarah and her best friend formed a band in high school, this is where her love of songwriting and performing began to develop. They played local shows and put demos on MySpace when that was still a thing. Sarah received her first singing lessons at the age of 17 at a performing arts charter school. Here she began getting immersed in the rich diversity of music and vocal training. With musical knowledge in theory and piano, Sarah started teaching herself how to play guitar on a loaned Yamaha that never really seemed to stay in tune. Songwriting is something that did not always come easy for her, but with time the melodies got catchier and the lyrics more meaningful.
College came and Sarah knew she wanted to get serious about music. Sarah recorded her first EP "Sanctuary" with Lu Rubino. Soon after the recording was complete, Sarah signed with a small record label. Sarah went on two tours that traveled throughout the east coast and the Midwest. After a trip to Russia, Sarah found love. She always dreamed of living in California, and the dream became a reality when she met Jonathan Tilghman. Sarah moved to San Diego, got married, and started her new life with her husband at the age of 22.
Many changes started taking place in Sarah's music career, and she decided it was time to take her career in a new way as an independent artist. This decision came with the loss of her EP among other things that she worked hard for. That feeling of fear started becoming a familiar feeling. What once seemed easy for her, became very difficult because of leaving everything she knew with the label and venturing into the unknown. It was like a loss of security in her music career, and she felt lost. After a time of walking through a journey of anxiety & fear that was so consuming, Sarah began songwriting again, but this time the songs had so much more meaning and the "why" behind everything became so much more clear. These songs weren't just for her, there was a story to share with others.
Sarah recorded a live album with Resurgent Sound. This was an 11 track album titled "Foreign Affair". These songs shared her story about struggling with anxiety, fear, and feeling hopeless. As her story has unfolded, Sarah is more driven than ever to share this message with the world. "Fear is a liar and it does not have to steal who you are. We all walk through difficulty, but it doesn't have to overcome us. You owe it to yourself to get back up when you get knocked down because you are full of goodness…exactly what the world needs more of."
Getting in touch with her roots of influence from jazz & classical music, Sarah has developed into a pop/soul artist that writes love songs, songs about loss, and songs that awaken the dreamer within you. This isn't just feel good music…this is dream fulfillment music.
Website: http://www.sarahtilghman.com/
Youtube: https://www.youtube.com/channel/UCiJ6JPHk5e5dDpbPesn_UuQ
Facebook: https://www.facebook.com/sarahtilghmanmusic/
Instagram: https://www.instagram.com/sarahtilghmanmusic/